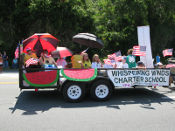 English For Speakers of Other Languages (ESOL)
English for Speakers of other Languages (ESOL)
Mission Statement
Reach All . . . Teach All . . .
It is the mission of the ESOL Office of the School Board of Levy County to monitor, expedite, and facilitate the English-language acquisition of our ELL or English Language Learner students. Our primary goal is to provide high-quality, rigorous and diverse educational experiences for all ELL students.

Levy County schools implement the "Inclusion Model" of instruction for ELL students. The instructional focus for these students is the development of English-language proficiency in the areas of listening, speaking, reading, and writing. Students are offered all educational opportunities that are afforded to each and every student in attendance within our District.

ELL students participate in computer-assisted learning experiences. RosettaStone, a research-based language acquisition program, is utilized to support ELL students in their development of English-language proficiency. All students receiving ESOL services participate in the RosettaStone Program. This program is available in all Levy County Schools.

Schools with a population of fifteen (15) or more ELL students have at least one ESOL Paraprofessional to assist the English-Language Learner students within the classroom setting. They provide translation services to our ELL students, serve as school-to-home liaisons for our ELL Parents, translate at Parent Conferences, and serve as a resource to assist classroom teachers of ELL students.

The ESOL Program requires teachers who are assigned ELL students to have training that addresses appropriate strategies for increasing ELL language development and student achievement. Ultimately, the mission of the School Board of Levy County and the ESOL Office is to provide the necessary resources to District Schools to assist schools in preparing our ELL student population to be successful bilingual and biliterate citizens in an ever-changing multicultural society. Our main focus remains increased student achievement.
 
Contact Information:
Valerie Boughanem
Coordinator ESOL / Assessment
352-486-5231, Extension 239
valerie.boughanem@levyk12.org