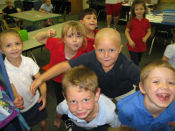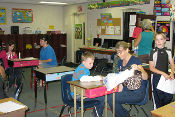 Welcome to Whispering Winds Charter School. We are a small, (less than 150 students) publicly funded school of choice located in Chiefland, Florida. We are under the umbrella of the School Board of Levy County, Florida, but are independently run by our own Board of Directors. Levy County is a rural county that reaches from the Gulf of Mexico to the borders of Marion and Alachua County. We love the richness of where we live, whether enjoying the beautiful springs, the Suwannee River, the Gulf of Mexico or the beautiful woodlands and farmlands . . . Levy County has it all.
Whispering Winds was founded in 1999 with the belief that smaller schools can provide a more personalized educational option for each child. We set high academic standards for all students, but also believe that your child is more than just a test score. Our goal is to provide a nurturing environment where your child can grow academically, socially and emotionally.
We are publicly funded, but privately run. We are held to the same accountability as every other public school in the State of Florida, but we have a unique educational philosophy and our Board of Directors and School Advisory Committee are responsible for the philosophies, policies and procedures of Whispering Winds Charter School.
We are very proud of our students and staff and believe that we provide an education option that focuses on high academic and social standards. We believe Whispering Winds is what every school can and should be.